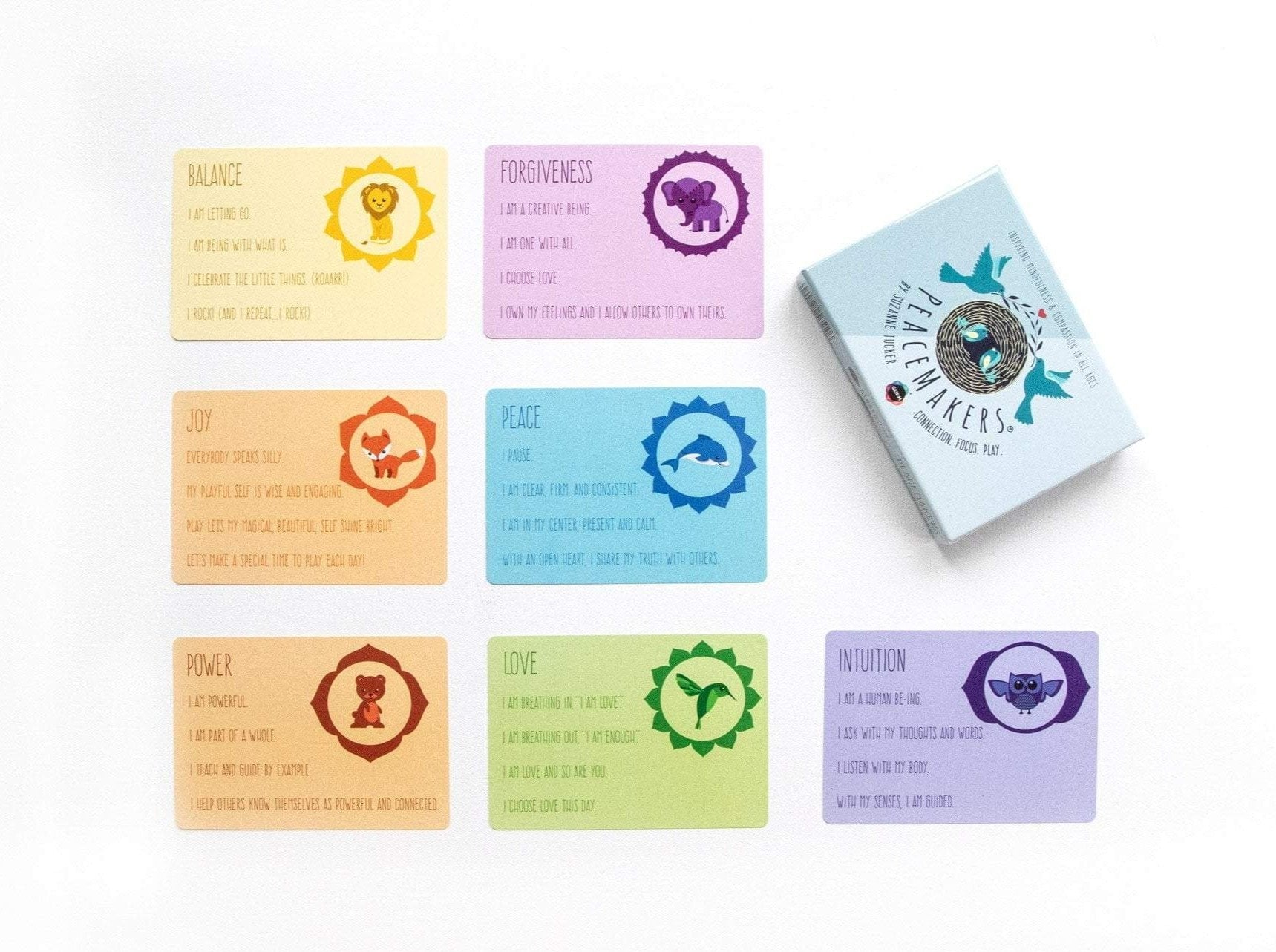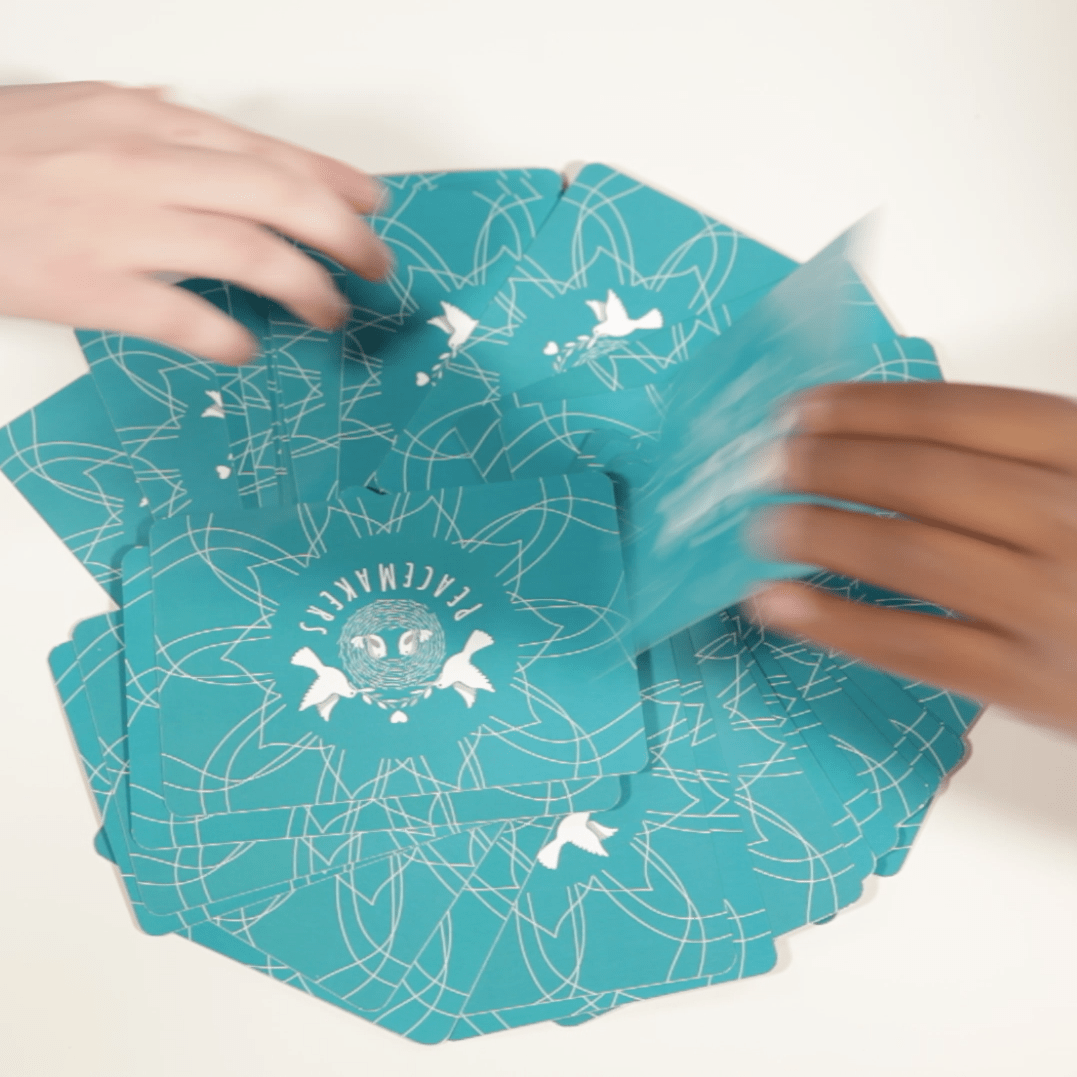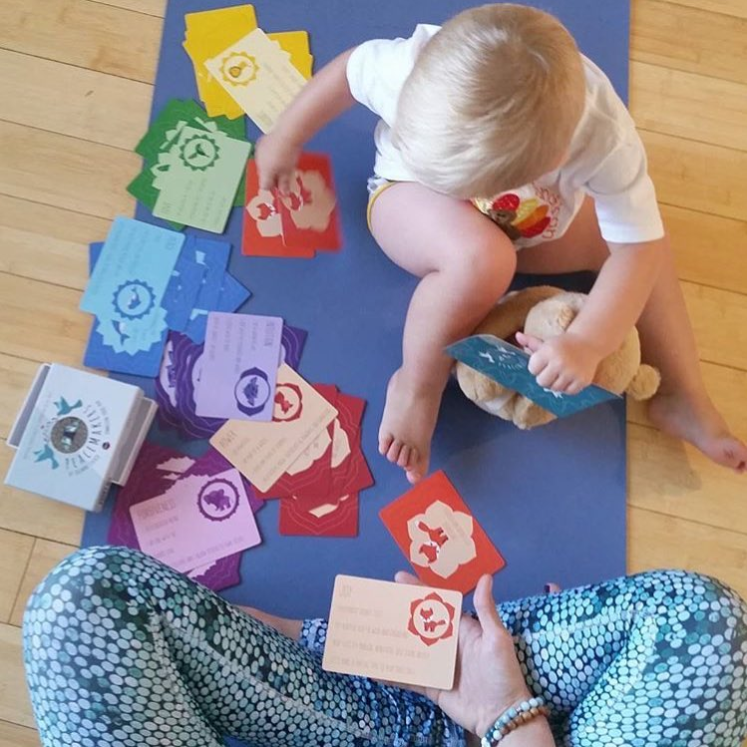 PeaceMakers Affirmation Cards
PeaceMakers help children and adults connect in daily, playful ways around the things that matter most: our ideas and our feelings. Each card delivers a unique, affirming message designed to nurture emotional intelligence including self-love, social skills, a growth mindset, confidence, and more.
Make Connection and Conversation a Habit with Fun Daily Affirmations
PeaceMakers help children and adults connect in daily, playful ways around the things that matter most: our ideas and our feelings! Each card delivers a unique, affirming message designed to nurture emotional intelligence including self-love, social skills, a growth mindset, confidence, and more.

The affirmation cards introduce children to our PeaceMaker Pals Red Bear, Orange Fox, Yellow Lion, Green Hummingbird, Blue Dolphin, Indigo Owl, and Violet Elephant, each of whom represents a core life theme of power, joy, balance, love, peace, intuition, and forgiveness.
A PeaceMaker Card Deck is also included in our best-selling Time-In ToolKit.
Product Support
For an in-depth resource on playing with PeaceMakers, click here!

PeaceMakers are for tots to teens and come with more than seven ways to play:
THE BENEFITS OF PRACTICING MINDFULNESS
Mindfulness is paying attention in a particular way: on purpose, in the present moment, with joy and ease.
The practice of mindfulness has been proven to positively affect both our mental health and our physical well-being. The long list of benefits include stress reduction, improved attention, an increased ability to regulate emotions, and an increase in one's ability to feel compassion and empathy.
Many psychotherapists consider mindfulness to be an effective treatment for adults, children, and adolescents who struggle with aggression, ADHD, and anxiety.
As children practice mindfulness, they become aware of what their minds are really up to. This helps children deal with their emotions and to replace impulsive reactions with more thoughtful responses.
Without basic mindfulness skills including self awareness and impulse control, children and adults tend to be reactive, but, by making the practice of pausing and connection to the present moment a daily playful ritual, PeaceMakers and other mindfulness practices help people of all ages respond instead of react.
A research study at the University of California found that children who practice meditation have improved focus, higher grades, stronger emotional regulation abilities, more compassion, and better conflict-resolution skills.
FREQUENTLY ASKED QUESTIONS
HOW LONG DOES IT TAKE TO PLAY PEACEMAKERS?
On average 5-15 minutes a day. Families, yoga kids classes, classrooms, and therapy group circles are playing with PeaceMakers.
HOW MANY PEOPLE CAN PLAY?
The cards are ideal for families, classrooms, and groups from 2 to 25+ individuals.
FOR WHAT AGE?
Children ages 3 to 10 are PeaceMakers' biggest fans, but our community has been playing PeaceMakers in diverse settings, from couples reading the affirming messages to their unborn children to youth programs, teen therapy circles and more. Some members are even using the cards to connect to their aging parents. The desire to connect is universal.
WILL THIS IMPROVE MY CHILD'S BEHAVIOR?
Helping children strengthen their social-emotional skills improves their focus, self-control, self-expression, empathy, resilience, listening, cooperation and more. How? PeaceMakers affirm empowering belief systems, behaviors, and life-skills in predictable and playful ways. PeaceMakers also give children and adults time to practice recognizing, understanding, labeling, and expressing their feelings each day.
One family went from daily tantrums to just one in an entire month by simply adding PeaceMakers to their morning ritual. Please read our customer reviews below for more on the results you might expect to see, and add your own!
DO YOU OFFER RETURNS?
Yes! We want you to be 100% satisfied with your purchase and offer a money back guarantee. Returns made within 30 days will be credited in full, minus shipping.
Please email us at support@genmindful.com with any other questions you may have. 
LEARN MORE ABOUT MINDFULNESS
Books
The Whole-Brain Child: 12 Revolutionary Strategies to Nurture Your Child's Developing Mind
In this pioneering, practical book, Daniel J. Siegel, neuropsychiatrist and author of the bestselling Mindsight, and parenting expert Tina Payne Bryson offer a revolutionary approach to child rearing with twelve key strategies that foster healthy brain development, leading to calmer, happier children. The authors explain—and make accessible—the new science of how a child's brain is wired and how it matures. The "upstairs brain," which makes decisions and balances emotions, is under construction until the mid-twenties. And especially in young children, the right brain and its emotions tend to rule over the logic of the left brain. No wonder kids throw tantrums, fight, or sulk in silence. By applying these discoveries to everyday parenting, you can turn any outburst, argument, or fear into a chance to integrate your child's brain and foster vital growth.         
Meditation Is Not What You Think: Mindfulness and Why It Is So Important By Jon Kabat-Zinn, Hachette
Jon Kabat-Zinn is regarded as "one of the finest teachers of mindfulness you'll ever encounter" (Jack Kornfield). He has been teaching the tangible benefits of meditation in the mainstream for decades. Today, millions of people around the world have taken up a formal mindfulness meditation practice as part of their everyday lives. But what is meditation anyway? And why might it be worth trying? Or nurturing further if you already have practice? Meditation Is Not What You Think answers those questions.
The Mindful Day: Practical Ways to Find Focus, Calm, and Joy from Morning to Evening By Laurie J. Cameron, National Geographic
Designed for busy professionals looking to integrate mindfulness into their daily lives, this ultimate guide draws on contemplative practice, modern neuroscience, and positive psychology to bring peace and focus to the home, in the workplace, and beyond.
How We Eat with Our Eyes and Think with Our Stomach: The Hidden Influences that Shape Your Eating Habits By Melanie Muhl and Diana von Kopp, The Experiment
Through over 40 compelling questions, this book explores how our eating decisions tread the line between conscious and subconscious, and enables us to be more intelligent about food. With expert insights that draw from psychology, neuroscience, popular culture, and more, learn to see the innumerable influences behind your diet and cravings—from the size and color of your plate, to the placement of products in a supermarket, to the order in which you sit when out with friends.
What Now? Meditation for Your Twenties and Beyond By Yael Shy, Parallax
What Now? shares mindfulness practices to help twentysomethings learn to identify and accept these feelings and respond—not react—to painful and powerful stimuli without pushing them away or getting lost in them. This is not about fixing oneself or being "better." Readers are encouraged to embrace themselves exactly as they are. You are already completely whole, completely loveable, completely worthy. What Now?  shares practices that help us to wake up to this fact. 
If you're interested in mindfulness books for children, order our subscription MOJO box which includes a different children's book every month.
Incorporate Mindfulness Into These Daily Practices
Eat Mindfully
It can be helpful to remember this phrase: When you eat, eat. When you drink, drink. In other words, don't attempt to do fifty other things when you sit down to a meal, coffee or green juice. Simply focus all of your attention on what is in front of you.
Walk Mindfully 
Observe what is going on around you -- the sights, sounds and life unfolding. You may be amazed to find a whole new world you hadn't even noticed before.
Connect With Your Senses
Your senses -- touch, smell, taste, sound and sight -- are your gateway into the present moment. Bring awareness to the taste of your morning cup of coffee, to the feeling of clothing on your skin, and to the feeling of grass underneath your feet. 
Observe Your Thoughts and Emotions
By simply becoming aware of your thoughts and non-judgmentally observing them as they come and go -- like clouds passing in the sky -- you are being more present. You are not getting caught up in your thoughts and forgetting that they are not you.
Check out the conversation below between the creator of PeaceMakers and psychotherapist Robbyn Peters Bennett, the founder of StopSpanking.org about the many ways to use the cards in a therapy practice with young children who suffer from anxiety.
ORDER TODAY FOR FREE UNITED STATES SHIPPING.
All orders ship USPS within 1-2 business days and deliver in 2-10 days depending on where you live.
DO YOU SHIP INTERNATIONALLY?
Yes! We proudly ship everywhere in the world. After you place an order, we will send you a USPS tracking number along with delivery updates.
The recipient is responsible for any applicable duties, taxes, and fees. 
If you place an order and find you LOVE them as much as we think you will, please share your thoughts with us by reviewing them below. 
YOUR LITTLE MOMENTS