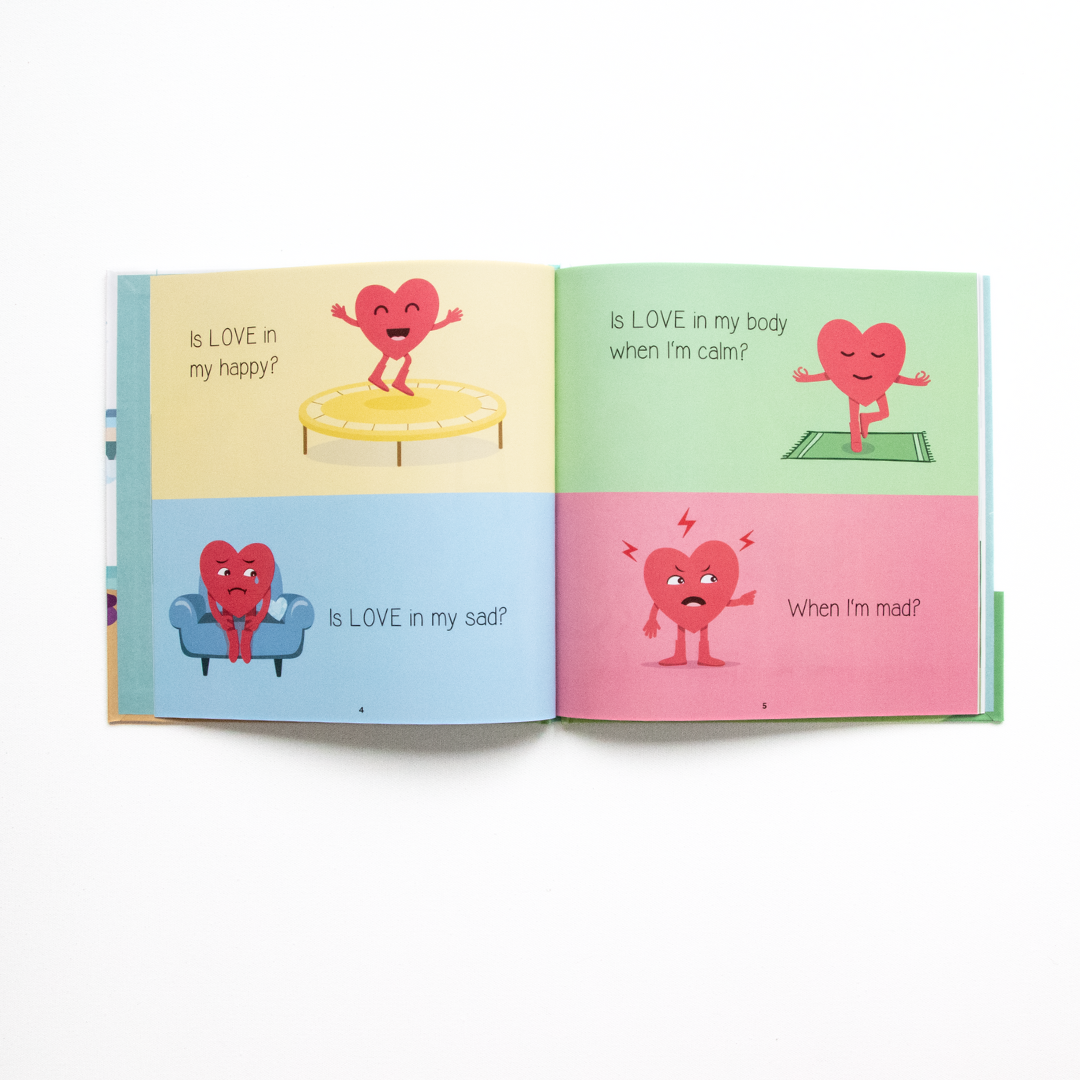 Heart's Treasure Hunt
Heart's Treasure Hunt is a beautifully-illustrated, 28-page hardcover book for children of all ages. In this get-up-and-move story, our friend Heart wants to know "What is Love and where does Love live?"
He sets out on a treasure hunt to find his answer, meeting each of our PeaceMaker pals on the way. In the end, Heart discovers that love lives in each and every one of us. The last page of the book has a mirror where children can see themselves as they read "You are love. Yes, it's true! Love, love love… Love is YOU!"
PRODUCT DESCRIPTION
"What is love, and where does love live?!" In this get-up-and-move story, our friend Heart wants to know, and the answer we discover at the end of the book just might surprise you! 

With your help and a colorful cast of animal friends, Heart goes on a treasure hunt, searching for love.
As a bonus, the last page is mirrored, so children can discover the answer to Heart's question for themselves!
"You are love. Yes, it's true. Love, love, love, Love is YOU!"
TESTIMONIALS
You will ADORE this beautifully bound hardcover storybook, complete with a mirror on the last page for children to see themselves and more than 14 hidden gems for you to seek and find inside the book!

Read what New York Times Bestselling Author and my personal hero, Dr. Dan Siegel had to say about our new book. (Pinch me!!! Eeeek, such an honor.)
Product Support
Question: Is it hardcover or softcover?
Answer: Hardcover. The book also includes a mirrored page for children to discover where love lives… inside of them!
We proudly ship worldwide, and orders leave our US warehouse mid to end of January for this pre-sale item. After your order ships, we will send you a tracking number along with delivery updates.
The recipient is responsible for any applicable duties, taxes, or fees. There are no import fees to AU and typically small fees to import into Canada.
Thank you! Email support@genmindful.com if you have any other shipping questions. We are happy to help.
YOUR LITTLE MOMENTS