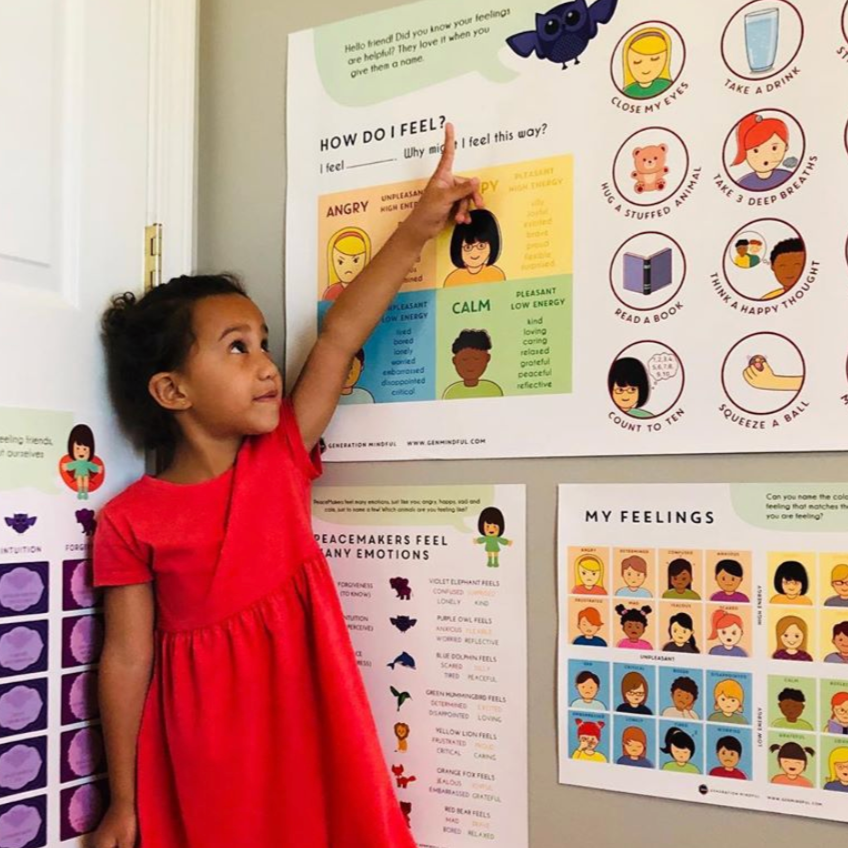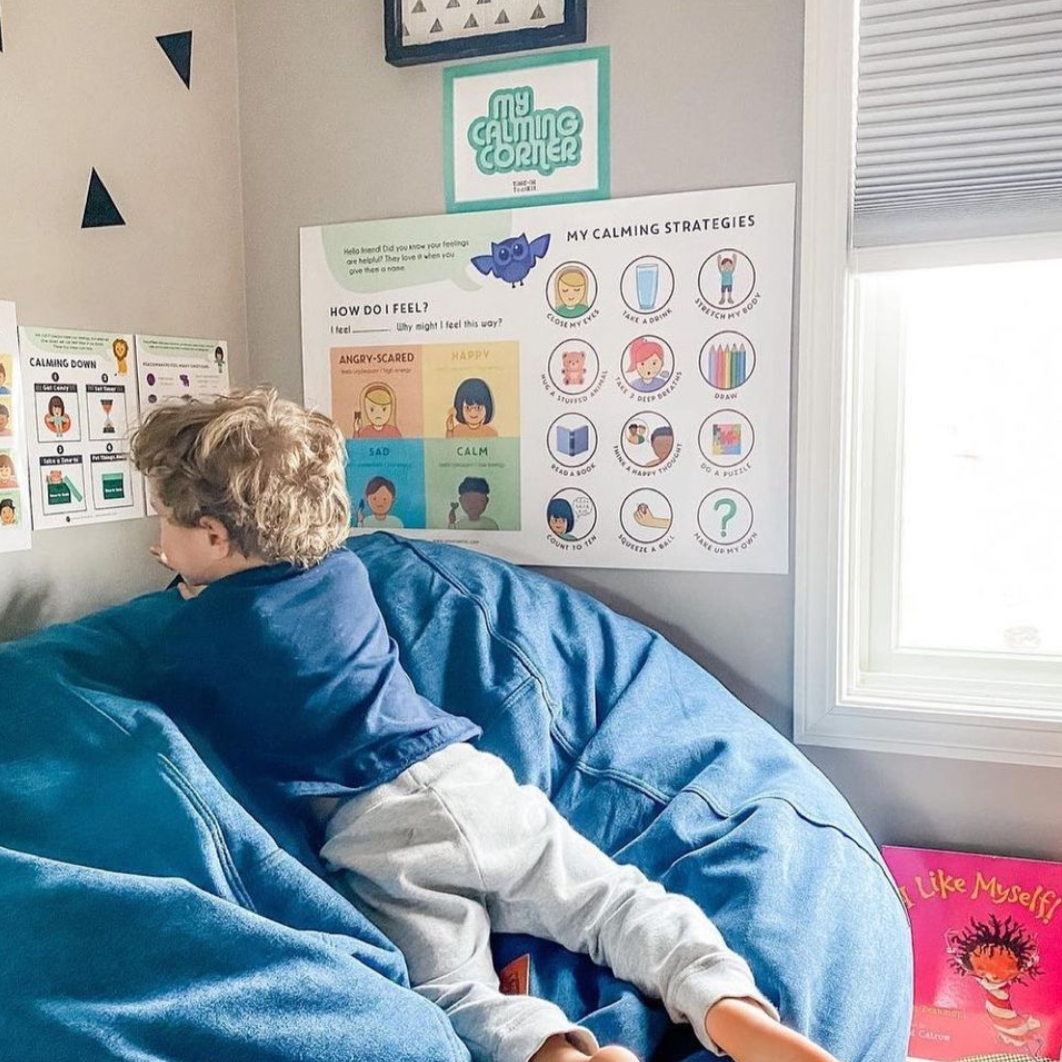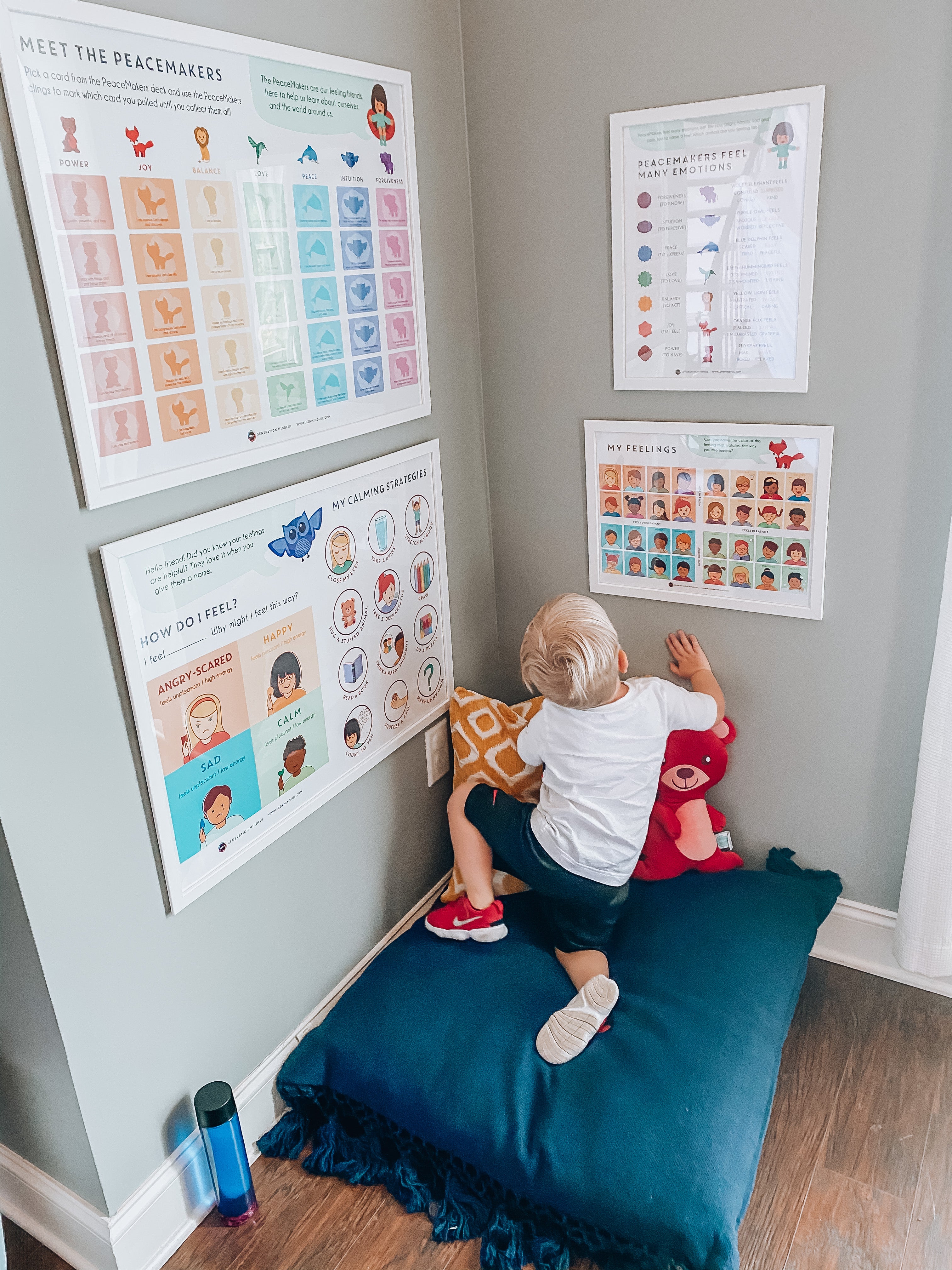 The Time-In ToolKit®
Let's make teaching kids about their emotions as mainstream as teaching them their ABC's!
The Time-In ToolKit helps you teach kids emotional intelligence, regulation, resilience, and empathy with research-based toys and tools. For ages 2-9+, your Time-In ToolKit™ includes:
⭐ Interactive feelings charts
⭐ Fun Time-In activities and card games
⭐ Easy-to-use Lesson Plans
⭐ Support resources for caregivers
Start connecting before correcting today. Raise healthy, resilient children with the skills they need for a lifetime of connection and joy.
Create a Calming Corner in your home or classroom with The Time-In ToolKit®.
The Time-In ToolKit® playfully teaches kids 2-9+ how to navigate big emotions through social-emotional skill-building games. Created by child-development experts, your ToolKit includes everything you need to create your own Calming Corner and start taking Time-Ins instead of Time-Outs with your little ones.
The "Ready-To-Hang" version of our famous Time-In ToolKit includes all of the same information and activities but uses 1/3 of the wall space with a smaller poster size, and sturdy, faux-framed material.
Product Support
The Time-In ToolKit includes six posters: two 20"x30", one 12"x16", and three 8"x10". We recommend IKEA frames for quality and price.
The RIBBA frame line by IKEA has a 19 3/4 x 27 1/2" frame that fits the 20" x 30" posters perfectly with a small trim of the white poster margin. Or you can use the 24" x 35 3/4" frame with matting as shown below.
RIBBA frames do not come with a hanging wire. We recommend mounting the posters to the wall using 3M adhesives for no drilling and easy removal.
The FISKBO line by IKEA is another framing option, or you shop online/area craft stores. Sticky tabs for hanging unframed posters are included as well.
Interested in learning more about using Time-in's? Get a free printable with eleven calming strategies for you to color and share with your children.
Sign up here for our FREE 4-Page Calming Strategies Coloring Sheets.
Just color, fold, staple, and turn your printables into a calming strategies booklet with children ages 3+. Or cut the cards out, add a key ring, and make a handy set of calming strategy cards you can take with you on the go.
These BONUS printable calming strategies are just a taste of what you'll find inside the complete Time-In ToolKit.
DO FRAMES COME WITH THE TIME-IN TOOLKIT? HOW DO YOU RECOMMEND I FRAME THE POSTERS?
We recommend IKEA frames for quality and price for your six posters. See above under the FRAMING tab for more details. Sticky tabs are included for hanging unframed or laminated posters. Frames do not come with your purchase.
I WANT TO INTRINSICALLY MOTIVATE MY CHILDREN. CAN YOU EXPLAIN HOW THE TOOLKIT DOES THIS AND HOW THIS IS DIFFERENT FROM CLIP CHARTS AND PUNISHMENT?
The Time-In toolKit is built around skill-building, and teaching children social and emotional skills via modeling, not by reward or punishment.
The Time-In ToolKit replaces both the punitive and/or a "behavioral management approach" by nurturing emotional intelligence in both children and adults. The many skill-building activities that come inside each kit are nurtured through the primary relationships a child has --- with their parents, siblings, and teachers.
The Time-In ToolKit encouraging people of all ages to notice, name, and express their thoughts and feelings. The animal stickers that come with the kit engage children and help them track which PeaceMakers cards they have pulled until they collect all 35, serving as a record of the learning that has occurred (Reggio Emilia). The stickers are not a reward nor are they given in exchange for a behavior.
For more on PeaceMakers, the positive affirmations/mindfulness cards included in each kit, please visit here.
WHAT DOES SOCIAL AND EMOTIONAL DEVELOPMENT IN EARLY CHILDHOOD LOOK LIKE?
Children experience the same emotions as adults. The difference is in the rapid mood swings and intensity of emotion. Temper tantrums are very common in early childhood. Toddlers, in particular, have very intense, but also short-lived emotions.
At this age, children normally find it hard to share and typically lack impulse control. Rather than punishing children for not being born with social and emotional skills, we can nurture them. Just as we teach children to walk and talk, it's crucial to teach children social skills and how to express emotions. The Time-In ToolKit and all our play-based tools turn this process into daily playful rituals!
Examples of positive development in early childhood include cooperating with peers, being attentive to adults, and being capable of switching between activities smoothly and easily.
AT WHAT AGE DO KIDS UNDERSTAND EMOTIONS?
Studies suggest kids can grasp emotions as early as 4 months. Babies show preference or interest by looking at something for a longer period of time. In a study, infants were shown images of different facial expressions – ex. expressions of anger, sadness, or joy – and most of them spent more time looking at the "happy" photos.
Many infants can tell the difference between how different emotions are expressed vocally by the age of 5 months. In another study, infants were shown one single facial expression, but the emotional tone of voice changed. They started looking at the photo again immediately after the change of voice. For example, the baby was looking at a picture and hearing a happy voice. They lost interest in the photo and started looking elsewhere. When the voice changed – i.e. became angry or sad, their focus returned to the picture, and vice versa.
Children are sensitive to emotional changes in a voice and it is never too early to establish positive discipline practices in a home. For nurturing social-emotional skills in infants and young toddlers, we highly recommend starting with our transformative Online Positive Parenting Course.
HOW DO I TEACH MY TODDLER TO EXPRESS FEELINGS?
There are special games in the Time-In ToolKit that you can play with your kids to help them recognize feelings and foster empathy. Games are an engaging way to teach kids social competence and skills so they feel comfortable expressing their feelings. This is important because negative feelings will tend to dominate in many facets of their life in the absence of adequately developed social skills.
For toddlers, "adequately developed social skills" means learning to play well with others, having the ability to show empathy, and being able to share things. Children at the age of two normally show empathy – for example, a child this age will pat a crying child on the back to comfort him.
There are many things you can do to help your child develop social and emotional skills. Children learn by imitating, which is why parents are such important role models. If your child sees you being helpful, sharing things and feelings, and being grateful, they will imitate you. Eventually, they will develop a firm grasp of how to interact with others both at home and outside it. Playing a fun game with them and saying "please" and "thank you" with a smile is a nice start.
It is essential to praise your child when they demonstrate good social behavior. This way, they understand which forms of behavior are praiseworthy and encouraged. They also feel better about themselves. This plays an important role in fostering a sense of emotional competence and empathy. Children become more mindful and thoughtful if a positive climate is created at home, in which they can share their feelings without fear of punishment.
HOW DO YOU TEACH CALMING STRATEGIES?
It's never a good idea to wait until a tantrum to begin teaching a calming strategy. Calming strategies are best taught at non-stressful times and through playing games. The My Calming Strategies Poster, which is part of the Time-In Toolkit, presents different strategies that will help children notice, name, share, and regulate their bodies and their minds.
Interacting with your child and allowing them to interact with peers is the best way to teach calming strategies and social competence.
We proudly ship worldwide, and orders leave our US warehouse within 1-3 business days. After you place an order, we will send you a tracking number along with delivery updates. Due to COVID-19 and USPS delays, we ask you allow 1 week for delivery in the US and 2 to in rare cases 4 weeks outside the US.
The recipient is responsible for any applicable duties, taxes, or fees. If you live in the UK, import fees on a kit have been as high as US$22. There are no import fees to AU and typically small fees to import into Canada.
Thank you! Email support@genmindful.com if you have any other shipping questions. We are happy to help.
YOUR LITTLE MOMENTS